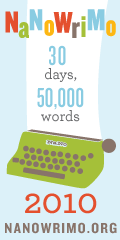 November is NaNoWriMo, or National Novel Writing Month. If you haven't heard of it, it's an international event in which people of all kinds attempt to write 50,000 words' worth of a novel. If that sparks all kinds of questions in your mind, check out What is NaNoWriMo? and How NaNoWriMo Works. The goal is not to turn out a perfectly formed, exactly 50,000-word short novel that is publishable and beautiful and perfect (although all of these folks managed to turn their NaNos into something that DID get published!). It's just to get people writing and, even better, writing more than they probably ever thought they could. We all know how thrilled students are when they achieve something significant like their first letter, essay, speech, or phone call in English. Imagine writing your first novel…
I've tried it once before and didn't get too far, but I met some really great people–one of the keys to the thing is that having other people around you at write-ins and so on really helps you push forward! I'm still friends with some of the people I met. Yesterday, I went to a pre-kickoff "meet'n'greet" event in San Jose. There were tons of people there, and it was pretty exciting.
"But wait," you may be thinking, "I don't even live in North America!" No problem–there are groups all over the place. Check out NaNo Near You for groups in Australia, Taiwan, South Korea, Ireland, Japan, Spain, etc. etc.–there are about 500 chapters around the world.
My crazy idea is actually to write something that's for English learners. I really like some of the extensive readers on the market, but there aren't enough out there (particularly original ones rather than re-writes). There's also not enough that's in American English. I think I'd like to take a stab at it. I'm pretty sure that even if I manage 50,000 words, many of them won't be usable. However, that's better than just continuing to do nothing but think about it. It's the same principle as when we encourage students to stop thinking everything over and just speak. I don't know if I can pull it off, but I'm planning to give it a good try!
Annie Rizzuto at Prestwick House also wrote about "the most wonderful time of the year" and how exciting it could be to work with students. NaNoWriMo has a Young Writers Program, in which students can set their own word count goal, and an educators' guide including lesson plans, a forum, and more.
I wonder if anyone at the Office of Letters and Light (the people behind NaNoWriMo) is interested in hosting a similar, flexible-goal version of NaNoWriMo for language learners … L2NoWriMo sounds good to me.
Anyway, if you're doing it too, let me know!
P. S. This is my 100th post! I wanted it to be on something more serious, but I'm serious about both ER and writing. So this will do! Oddly enough, it comes just after my 100th post over at Readable Blog.