Day One: A couple of Lifehacker editors have written a guide to Google Wave, the amazing new still-in-progress collaboration and communication service that I think could be really fantastic for teachers, writers, people working overseas, and just about anyone.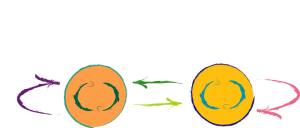 You can read a version of the guide free online: The Complete Guide to Google Wave (it only costs money if you want to buy the PDF). It can be a little strange to get the hang of, so I plan to read it myself. You can do interesting things that you can't do in usual document-sharing and chat services, but it's very hard to explain until you start playing with it! For example, you can insert a poll into the middle of a chat about where to have lunch, mark up a sample student essay together, scroll around and add pointers to your favorite places on a Google Map view of downtown Kyoto, and switch from one mode into another pretty easily.
In addition, since you still can't just sign up for Google Wave directly, I have six Google Wave invitations that I'll give out to the first six English/ESL/EFL teachers (or teachers in training) who contact me through my Contact Me page (please don't leave your e-mail address in the comment box on this post here, because then anyone can see it!). This offer is not open to other people; just TESOL professionals and professionals-in-training, so you need to tell me your specialty and where you are teaching or studying, as well as give me your Gmail address or another e-mail address (you'll have to set up a Gmail account). Also, keep in mind that your Google Wave account name will use your Gmail account name. If I invite you, I think we'll automatically become Google Wave contacts, but other than that happening I won't use your contact info to contact you for anything. And feel free to delete me.
I've been having fun with Google Wave and look forward to collaborating on some serious projects using it soon!
(Late start, but making Christmas dinner took longer than expected! It's still December 25th in California though…well, it was when I was almost done with this! Rats! I'll try to get ahead on the posts.)
Please let me know if you make use of any of the Twelve Days entries! I'd love to get some feedback.