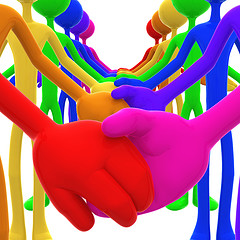 Dear Korean teachers, Japanese teachers, Thai teachers, etc.,
Do you remember how much fun you had when you were a MATESOL or PhD student in the US going to your local conference, or in the UK or Australia, or going to the international TESOL conference? I remember going with my international student classmates. The conferences were so much better because they were there! You don't need to stop going to conferences just because you are back in Seoul or Okayama or Bangkok. In addition to the fun and inspiration of conferences, you may be able to find out about grants for materials and training, get free books, make useful international and local connections, etc. It can be great just to share ideas with (and complain to) people who really understand your job and concerns, when your non-English-teaching co-workers, friends, and family probably don't. For example, if your country tends to prefer old-fashioned teaching methods like grammar-translation or the audiolingual method, other teachers from your country may know how to help convince school administrators to let you add more modern teaching techniques like extensive reading or task-based teaching. They may know about successful programs at specific schools and have exam results that you can show your school's administrators and concerned parents. How else can you get this information? It's invaluable!
Of course, time and money are still an issue, but you can check each group's website for grants and reduced fees. You may even be able to get your boss to pay for your membership or attendance if you bring up the idea in the right way. Another concern for some teachers is that a few of these conferences and associations are dominated by foreign, "native-speaker" teachers. However, I've heard that a lot of them would be really happy to have more local teachers involved. They just aren't sure how to reach out, because (…sigh…) many of them are monolingual English-speakers. So I'd like to encourage you to try joining your local association, going to their conference and workshops, presenting at the conference, writing for their publications, and becoming part of their leadership. Even if they don't know it, they really need you! If you're nervous about going, try to find a co-worker or former classmate to attend with you.
I'd also like to address this to any Canadians, Americans, Singaporeans, and others who have found themselves teaching English abroad despite having no teaching training and no applied linguistics background: Please check into these conferences and associations. You won't become a full-fledged professional in a weekend, but sometimes the workshops are amazing. You could learn enough to really benefit your students and make what you do far more interesting for yourself, as well. (Some conversation-school instructors have told me that they've wound up totally rethinking the entire concept of "English teaching" as a result of being dragged to a conference.) Major conferences sometimes have free resources, too, which can make your life a lot easier. You, too, can bring a co-worker or fellow expat with you if you're nervous, and you may also be able to get your boss to pay for membership or attendance.
Of course, if you're teaching overseas as a professional, whether it's long-term or short-term, you should definitely check out these groups. As a bonus, a few of them include the teaching of local languages as part of their mission statement, which could make things more interesting (and perhaps provide some high-quality language-learning connections for you). I've noted a couple that mentioned it, but others likely do as well. Some groups have peer-reviewed or less formal publications, both of which can provide a good place to start getting published if you have extra time on your hands. Several groups, like JALT, have affiliations within an entire region–I recently received information from JALT's Extensive Reading group that they're doing presentations with KOTESOL in Korea. So you may be even able to make connections in the next location where you're considering teaching, without going anywhere.
Okay, where do you find these groups? Well, TESOL has a list of worldwide affiliates, but many of the links are broken. You can at least use the title to type into Google.
Here are a few active groups: