If you're new here, you may want to subscribe to my RSS feed. Thanks for visiting!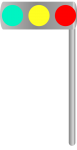 I'd like to spotlight a new addition to the recommended blogs here, Surviving in Japan (without much Japanese). This blog/how-to-directory is an ever-growing guide to how to improve your life in Japan if you are not perfectly fluent in Japanese, but are in English. The author, Ashley, is a writer (and part-time teacher) with a good sense of what people settling in to Japan really need to know about. She's also the new writer for the "Lifelines" column at the Japan Times. There's no travel-guide-style "wear toilet slippers in the toilet or risk embarrassment!"-style advice here–you can find that in your Lonely Planet. Instead, you get instructions, recommendations, links, photos, and even translations on topics such as
There are lots of other posts on everything from minor issues like how customize your order at Starbucks to critical issues like what to do if your Alien Registration Card is missing. (I'm secretly hoping for a post on reading Japanese nutritional labels at some point! That would be handy for me over here, even.)
This blog is highly recommended for being informative, readable, and essentially performing a public service. If you're moving to Japan or are already there, check it out! I just wish someone were doing this for every country (and in every language combination!).
You can also follow Ashley on Twitter at @survivingnjapan.
Possibly Related Posts: