If you're new here, you may want to subscribe to my RSS feed. Thanks for visiting!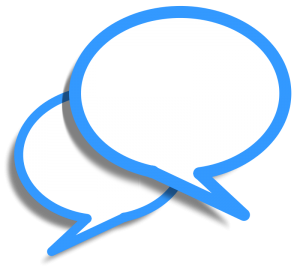 If you are stuck desk-warming* or just have a little time to kill at your computer, but your network doesn't support IM programs or won't let you install them, Meebo is a nice web-based alternative alternative. You can log in to any or all of your instant messenger accounts–AIM, MSN/Live, Google Talk, Facebook chat, etc., at once. (It's also very useful in internet cafes.) This doesn't mean that I can use my Yahoo account to talk to someone on AIM, though–you still have to be on the same system to talk to each other. It just puts everyone in the same window.
I suspect the website is blocked by many net-nanny programs simply because it means you can get around restrictions on IM services, but perhaps you'll get lucky if you need it.
Meebo also has an iPhone app, although it's a bit annoying because you have to log out and press the home button every time you're done with it, or you'll get logged back in.
If you can use IM software on your network, check into Pidgin (Windows/Linux[?]) and Pidgin Portable (if you can use IM software but can't install anything on your work computer) or Adium (Mac OS X). Both handle multiple accounts, letting you stay in touch with friends, family, and students across the world who are on different systems, and letting you keep various groups separate–for example, when I use Adium I can have two Yahoo! IM accounts logged on at the same time, such as "teacherclarissa" and "ffordefangirlccs", for different purposes. (Not my real account names!) Just as with Meebo, you still have to have an account on that system to talk to someone using that system. (But at least you don't have to have 2 or 3 different programs running and using up system resources.)
These "client" programs, as they're called, are also not prone to the ads and other annoyances that the proprietary programs produced by the companies themselves are. The drawback is that there are occasionally glitches when trying to transfer files, if you often use your IM program to do that.
All of the above programs and services are currently free to use.

---
*This doesn't happen as much to teachers in the US (I don't know about other places), but in K-12-equivalent schools in Japan and Korea, at least, foreign teachers are often required to stay on campus when they don't have class and are done with lesson-planning. It's not easy to spend time in the teachers' room if you're not fluent in the local language yet, so they often remain at their own desks or in their classrooms (some teachers don't have another desk or office). It doesn't seem like the most efficient use of teachers' time, but I can't comment on it in detail because I haven't experienced it firsthand.
Possibly Related Posts: